When there's a chill in the air in New York, I know it's time to go to Puerto Rico to warm up. But with the pandemic looming, there's a lot to consider when it comes to traveling.
The ultimate Puerto Rico travel guide in the time of Covid-19 helps navigate COVID rules and restrictions. In addition, it shares important travel tips and highlights many of the best places to visit while social distancing in Puerto Rico.
What are the Covid requirements to visit Puerto Rico?

All travelers arriving in Puerto Rico are required to submit a travel declaration with contact tracing information & proof of a negative COVID-19 covid test 48 hours before arriving on the island. Visitors can access the specific requirements on the Discover Puerto Rico website and the Travel Declaration form through the Puerto Rico Health Department's online portal.
It's essential, however, that visitors take these requirements seriously. They protect not only you but those who live on the island, limiting the stress on an already burdened health system. Be sure to read essential air travel tips during COCIV-19 for guidelines on how to stay safe at the airport and on your fight.
Vaccination or proof of a negative covid test and mandatory face coverings in public areas are required, (not suggested).
Should I get travel insurance when visiting Puerto Rico?
In light of the global pandemic continuing to loom over us and so many unknown stresses surrounding travel plans, you may want to consider travel insurance options, so that you can travel worry and hassle-free.
Boulevards and Byways reached out to ConsumersAdvocate.org to better understand just how travel insurance works in conjunction with the Covid-19 pandemic.
Travel Insurance
Their team created a guide on the best travel insurance featuring a side-by-side comparison of 4 different companies voted "best for" in various categories.  They assessed the policies based on their coverage, benefits, financial strength, and price, and reputation. 
When choosing travel insurance for a future international or domestic trip, be sure you understand exactly what's covered. There are different categories for the basic coverage, as well as limitations for coverage such as alcohol use and extreme sports.
What is there to do in Puerto Rico?
For decades travelers, seduced by Puerto Rico's charm and miles of breathtaking beaches have returned again and again because there are a plethora of things to do.
Once you make the decision to travel to Puerto Rico, eco-friendly activities from kayaking a bio-bay that glows blue to hiking a tropical rain forest are at your fingertips.
Here are things you can do in Puerto Rico, all while social distancing. I organized them by things to do in the north, central, south, east, and west to make it easier for you to find things to do in your area of interest.
Things to do in Puerto Rico
What to do on the North Coast
Meander through historic Old San Juan
A UNESCO World Heritage Site, 16th and 17th century candy-colored homes and shops dot this charming city.
Much of Old San Juan is made for walking either on medians dotted with benches and shady trees or along streets lined with its emblematic blue cobblestones. El Paseo de la Princesa, created in 1853, leads visitors through a pleasant tree-lined sculptural and garden showcase.
Museums offer an abundance of rich history, and the 16th-century forts tell a fascinating story of this old city.
Always wear a mask and for more information check out this self-guided walking tour of Old San Juan.
Visitors can also check out La Placita, in the Santurce neighborhood when finished with touring Old San Juan. About 10-minutes away, a farmers market and incredible food-truck scene make this a covid-friendly area to pick up some fresh produce and get a bite to eat.
Admire two incredible fortresses
Travel back in time to the 16th century when Fort El Morro and Fort San Cristobal provided protection from attacks. The forts, located in Old San Juan are not open at this time because of COVID, but visitors can still admire the imposing stone walls.
These massive masonry defenses were the work of Spanish military engineers, to fend off pirate attacks. They showcase more than 400 years of history in the Americas.
Visit stunning beaches
There are people who travel across continents to find secluded, untouched beaches. Unknown to many, Puerto Rico has approximately 300 beaches with options to suit every type of traveler.
Having put my feet in the sand of numerous beaches around the island, here are a handful worth checking out, but be sure to wear a mask.
Seven Seas Beach, Fajardo, northeast coast
The most popular balneario (public beach with facilities) in Fajardo presents its visitors with a placid shoreline that's ideal for snorkeling, kayaking, hiking, and more. The crescent-shaped beach of Seven Seas is lined with palm and almond trees that provide shade for a picnic or just to relax. The beach is close to small restaurants and food kiosks. Seven Seas has gazebos, parking, and camping areas, as well as restrooms and showers.
Balneario La Monserrat/Luquillo Beach, Luquillo, northeast coast
In the northeast part of the island, Balneario La Monserrat also called Luquillo Beach features a stunning crescent-shaped oasis lined with tall billowing palm trees.
El Yunque National Rainforest majestically towers in the background. The shallow, calm waters with lifeguards are popular with families. Jet skis and kayaks are available for rental on the weekends. Close to the famous Luquillo Kiosks, grab a bite to eat from one of the many local food vendors.
Playa La Posita, Loiza, northeast coast
One distinct feature of La Posita, (translates to pool), is that a long breakwater blocks the Atlantic waves from crashing into the beach, creating a calm pool in which to swim or relax.
Visitors can park in front of the beach, and, across the PR-187, grab a bite to eat in some of Piñones' best beach shacks. Sample local delights such as alcapurrias, (fritters of plantain and taro root stuffed with meat or seafood), or pastelitos, (fried turnovers similar to empanadas).
Isla Verde Beach, Carolina, northeast coast
Isla Verde Beach has soft, light golden sand and tall palm trees for shade. Just steps away from high-end beachfront hotels and resorts, during non-covid times, beach chairs, and umbrellas would be available for rent. Water sports and restaurants at visitors' fingertips.
Mar Chiquita, Manati, northwest coast
Two limestone outcroppings create a gorgeous half-moon opening with deep turquoise waters that are ideal for a day under the sun. This is a BYOS (bring your own shade) type of beach, so be sure to pack plenty of sunscreen, an umbrella, or a wide-brimmed hat, as there are no palm trees or bushes to find shelter from the sun. On the weekends, at Mar Chiquita Beach, you can find food trucks and stands that sell savory Puerto Rican food and cold drinks.
Jobos Beach, Isabella, northwest coast
At its furthest point west, Jobos Beach has a natural rock wall creating a protected cove with shallow areas safe for swimming.
The open waters attract surfers for its reliable surf year-round. The charm here is that there are no resorts or fancy restaurants. The laid back, local surfer vibe gives visitors an appreciation for what it really means to connect with nature.
Hike to Hidden & Secret Beaches, northeast coast
Playa Colora, Fajardo, northeast coast
Playa Colora, named for the orangy tan sand is a 10-minute walk from Seven Seas Beach. When you are facing Seven Seas beach, walk to the left through the opening in the path. Continue walking for about 10 minutes through the mangrove forest.
Turn right at the sign that says Playa Colora. Secluded and private, it's flanked by large boulders. The waves can be quite large so swimming is not recommended. Across the bay, you get a stunning view of the lighthouse that sits at the top of Las Cabezas Nature Preserve.
Playa Escondida, Fajardo, northeast coast
Playa Escondida means hidden beach in Spanish and it's named that for a good reason. It's about a 25-minute walk through the mangrove forest after you see the sign for Playa Colora. Continue on the path and you will be rewarded with an expansive stretch of white sand beach and gorgeous vistas. Keep in mind that there are no facilities here. Bring water for your return trip.
La Zanja, Fajardo, northeast coast
Translated to the ditch, this is one of the town's off-the-beaten-path wonders. La Zanja is a natural pool created when the waves from the Atlantic crash on the rocks and fill in the long, "ditch-like" indentation. If you like adventure, it's about a 20 to 30-minute hike from Seven Seas to this secluded location, and you'll get to enjoy some scenery along the road less-traveled.
Have fun with Water sports, northeast coast
Pirate Snorkeling Shack, Fajardo, northeast coast
Stand-up paddleboarding, snorkeling, and kayaking are all popular water activities in Puerto Rico. My favorite place for kayak and stand up paddleboard rentals, as well as snorkeling tours, is Pirate Snorkeling. An eco-friendly tour company, they encourage visitors to explore Seven Seas Bay, both above and below the stunning cerulean water.
Luquillo Flyboard, Luquillo, northeast coast
An incredibly unique and exciting water experience, Luquillo Flyboard operates on Luquillo Beach.
Discover the glowing Bio Bays, Fajardo, northeast coast
What, a bay that glows? Yes, that's right! Single-celled organisms called dinoflagellates live in the bio bay. Stirring the water, they have a physical-chemical reaction. The result, water that glows!
There are only five places in the world where you can see the water glowing. Three are in Puerto Rico!
The bays are only accessible by guided bio bay kayak tours at Laguna Grande in Fajardo and in La Parguera. The third location, Mosquito Bay in Vieques, a tiny island off of Puerto Rico, has a spectacular bio bay. At this time, however, Vieques island is only accessible to residents.
Mini boat adventure, Fajardo, northeast coast
Marina's are closed because of Covid-19, but when it's safe again, be sure to check out:
Surfing, Luquillo, northeast coast
Catch a wave and learn to surf on La Pared Beach in Luquillo with Surfing Puerto Rico. It's a super fun activity.
Jet Skiing, Luquillo, northeast coast
Here's where to rent jet skis on Luquillo Beach.
Connect with nature on the northeast coast
El Yunque Rainforest, Luquillo, northeast coast
Did you know that El Yunque is the only tropical forest in the United States National Forest System? It has the greatest concentration of biodiversity anywhere. Insects, mushrooms, ferns, birds, and frogs (including the beloved Puerto Rican coqui) can be found here.
Reservations are required and masks must be worn to comply with COVID safety directives. Be sure to check the reservation website before going to find out what is open and when.
Since hurricane Maria, a large part of the forest remains inaccessible, but there is still plenty to explore. La Coca Falls, pictured above, and Yokahu Tower, pictured below, are open with limited parking near each.
There are a number of accessible trails, however, be sure to check if they are open at the time of your visit.Trails at El Yunque:
Juan Diego Trail – An easy trail, with parking nearby, that leads to a small waterfall.
Mt. Britton Trail – Accessible from road 99, visitors can park and then walk to the access point that leads to Mt. Britton Tower. You can continue on the Mt. Britton Tower Spur to El Yunque Peak from here.
El Yunque Trail & Peak – To reach the peak, hike the Mt. Britton Trail (by using the Mt. Britton Tower Spur) to the El Yunque Trail. The observation tower on top of El Yunque peak, at a towering 1500 feet, looks like an old church inside. Be aware that El Yunque Trail has a difficulty rating of moderate to challenging. It can take 3-4 hours to walk 5 miles round- trip.
Puente Roto – Located on Route 988, there are areas to swim and picnic.
Angelito Trail – This hike can be found off PR-988. Enjoy a short hike through lush jungle and over a small bridge to a beautiful swimming area on the Rio Mameyes.
Zip lining, Luquillo/Rio Grande, northeast coast
There are several zip line tour operators on the east coast. Here are two of my favorite that are in the foothills of El Yunque National Rain Forest:
ATV & Horseback Riding, Luquillo, northeast coast
Rent an ATV through the foothills of El Yunque National Rainforest or horseback ride on the beach at Carabali Rainforest Park.
Beach Yoga, Luquillo, northeast coast
Sit cross-legged facing the ocean and breathe deeply for five or more breaths. There's absolutely no better place to experience yoga. Jennifer Forshee offers classes Wednesday through Saturday at 8:30 am on Playa Azul Beach, but it's best to check the Luquillo Beach Yoga Facebook page to be sure.
Las Paylas – natures water slide – Luquillo, northeast coast
If you're looking for an "off the beaten path" activity, this one is for you. Las Paylas Amazing rock formations create a natural water slide that can be accessed, believe it or not, in the backyard of someone's home.
Don't worry. The owners are prepared for guests and offer $5 parking as well as snacks and cool drinks. It's worth a visit to explore the unique rock formations even if you don't venture onto the slide.
Take route 3 to road 992 and make a left onto road 991. Continue until you see a sign for Sabana and turn right onto road 983. Follow road 983 until you see a house on the right with a chain link fence around the yard and the words Las Paylas on a sign and mailbox.
Luquillo Kiosks, Northeast
This roadside plaza with a soothing beach view is where you can have a simple snack or a sit-down dinner. A long row of over 60 open-air restaurants, serve anything from seafood to Puerto Rican street food. Many of the Luquillo Kiosks have live music on weekends, but with Covid-19 that has all been put on hold.
La Paseadora del Río Espíritu Santo, Rio Grande, northeast
La Paseadora, a fun and informative ride aboard a pontoon boat gives visitors a lesson in the ecology of the Espíritu Santo, the only navigable river in Puerto Rico.
Cueva María de la Cruz, Loiza, northeast
Tour the Cueva Maria de la Cruz cave for $5 and learn about the archeological finds including remains of archaic human bones that predate the time of Christ. The Cueva María de la Cruz houses one of the largest bee sanctuaries in the Caribbean, harboring thousands of bees in it's cracks and crevices.
While you're in Loiza be sure to check out the fine art by Samuel Lind. 6 Pr-187 Mediania Alta, Loiza.
Connect with nature on the northwest coast
Cueva Ventana, Arecibo, northwest coast
There's a fun tour with a spectacular cliffside view offered at Cueva Ventana (Window Cave)!
The entertaining tour provides the history of the Taino Indians who were the original inhabitants of the area. Visitors learn how the cave formed, the creatures that live there, and the plants on-site, (some of which are near extinction).
Cueva del Indio, Arecibo, northwest coast
On the roaring Atlantic coast is Cueva del Indio, or Indian Cave, named after the indigenous hieroglyphs found carved into the rocks. The entrance fee of $5 and will give you access to impressive cliffs, views of crashing waves, and a natural bridge formed from rocks. Before Hurricane María, there was a ladder leading down to the cave, which is now gone.
Experienced climbers can still make the descent down to the cave where there are rock carvings made by the Taínos, the tribe that lived on the Island before Columbus and the Spaniards arrived.
Lago Dos Bocas, Arecibo, northwest
The Dos Bocas Lake is located between the towns of Utuado and Arecibo. The lake area is surrounded by gorgeous scenery, and various boat operators offer rides around the lake and to and from five restaurants that are located on the lake's shores.
Lake Dos Bocas is an artificial lake that was created on 1942 as a hydroelectric power plant and works as a water reserve.
You can board the boat from a dock called El Embarcadero that departs every hour and makes stops at all of the restaurants. The boat ride takes about 30 minutes where you can enjoy the beautiful lake.
Guajataca Tunnel, Isabela, northwest
Guajataca Tunnel is a railroad tunnel that connected the town of Isabela and Quebradillas, Puerto Rico. The tunnel is one of the most significant work of the remnants of the national railway system that connected the island during the first half of the twentieth century.
Guajataca State Forest, San Sebastian, northwest corner
The Guajataca Forest (Bosque de Guajataca in Spanish) is toward the northwestern corner of the island. It has a ton of trails. It is recommended that first-time visitors should do 2 trails: Cueva del Viento (Cave of the Wind) and the Interpretive Trail. It's about 2.5 miles round trip (it includess the side trail up to the Observation Tower. It is relatively flat.
Cheese Making, Hatillo, northwest
Connect with the natural process of cheese making at Vaca Negra. Learn the process, taste it, make it, and in two months it's ready for you (to either pick up or be shipped). A truly unique experience.
Things to Do in Central PR
A wonderland of mountain splendor in Puerto Rico's central region
The island of Puerto Rico is known for its coastal landscapes, but there's different terrain to discover and plenty to see and do in its central mountains region.
Get heart-pumping thrills on the zip lines of Orocovis, discover indigenous culture in Utuado, or enjoy outdoor pursuits such as hiking, rappelling and cave tubing. Travel to Ciales to see Puerto Rico's tallest peak in the Toro Negro Forest Reserve and learn about coffee's origins by taking a coffee farm tour.
Cañón de San Cristóbal, Aibonito & Barranquitas, central region
Canon de San Cristobal is an awe-inspiring, 5.6-mile canyon. More than 749 species of plants and wildlife can be found here, along with natural pools, rivers, streams, and Salto La Vaca, the highest waterfall in Puerto Rico.
The site is managed by the environmental non-profit organization Para La Naturaleza, which leads guided educational tours that provide expert insight into the local ecosystem. If you're looking for a more challenging experience, sign up for a hiking and repelling excursion with Go Hiking PR.
Cañón Las Bocas Nature Reserve, Barraniquas, central region
Canon Las Bocas Nature Reserve offers an opportunity for outdoor exploration. The canyon has unusual geological formations consisting of volcanic and Karstic rocks, more than eleven waterfalls, and extensive flora and fauna.
La Garganta waterfall is a main attraction in the Canyon. I'm told the hike is over 7 hours round trip.
Las Bocas Natural Reserve Committee grew out of the concern to conserve this ecosystem and maintains an active campaign that promotes research and ecotourism to protect the lands. To visit the area, it is recommended to schedule a visit through the local Sierra Club chapter or a local tour provider.
Museo el Cemi, Jayuya, central region
The Cemi Museum (Museo El Cemi, in Spanish) is a visitor center for the area and a showcase of Taino artifacts. Archaeological digs and petroglyphs prove that pre-Columbian cultures lived in this area. The leaders of Jayuya wanted to preserve and educate about the Taino culture, so they opened this odd-shaped museum in 1989.
What is a Cemi?
According to Taino tradition, a cemi is a god, spirit, or ancestor.
Aerostatic Baloon, Jayuya, central region
Aerostatic Balloon of Puerto Rico offers an experience with a great 360-degree view at 3,200 feet above sea level when you are on a platform and another, at 3,700 feet when you are elevated on the balloon. There's ice cream, frappes, and handicrafts available.
La Piedra Escrita, Jayuya, central region
La Piedra Escrita is a monumental stone with important petroglyphs from the Taino culture. It's also a popular spot for bathing in the river and cooling off.
Bosque Estatal de Tres Picachos, Ciales & Jayuya, central region
Three Peaks State Forest, also known as Tres Picachos is one of the highest peaks in Puerto Rico at 3,953 feet. The mountain has three joint peaks from which the name is derived and is believed that Taíno Indians thought the mountain to be sacred.
Located 1½ hours from San Juan, or 1 hour from Ponce, it makes for a nice stop as you drive on one of the pretty meandering roads that cross through the center of Puerto Rico.
Be sure to visit the waterfalls, Las Delicias Falls. The road is long and has many curves but, once there, the effort will be justified.
La Ruta de la Longaniza, Oracovis, central region
Orocovis is located in the geographical center of Puerto Rico, also known as the heart of Puerto Rico. It's a great location to get out in nature and enjoy the beauty.
As you drive along the winding PR-155 road, you're treated to gorgeous views of forested valleys dotted with lakes and farms, framed by the rolling hills of central Puerto Rico. At the entrance to Orocovis, you'll see a colorful sign reading: La ruta de la longaniza, in English; The Longaniza Trail. Longaniza is a sausage of Spanish origin, similar to chorizo but with some differences.
This route was established officially in 2014 as an initiative by the municipal government to draw more tourism to the town. Around 15 restaurants participated, and over the years, many of the original businesses remain, while new ones have cropped up. Most are concentrated along PR-155, but several others are found along PR-156.
Whether you go from San Juan or drive up from Ponce in the south, expect the drive to be about an hour and a half.
What's longoniza?
Longaniza is one long sausage, rather than it divided into links. The meat is chopped rather than ground before being stuffed into the casing, giving it a chunky texture. While each restaurant has its seasoning, the base is salt, pepper, oregano, garlic, and annatto, which enhance the flavor of the meat.
Pork or chicken is traditional, but some restaurants offer house specialties. Chicken and ham longaniza can be found at Cafetin Los Amigos. Longaniza al vino (cooked in red wine with onions and peppers), and longaniza burger is served at El Ciclón. The popular restaurant La Sombra makes a tripleta (pork, beef, and ham), pavochón (turkey, pork, and bacon), and fish longaniza.
On weekends, before covid-19, locals from around the island would visit this part of Orocovis for a chinchorreo tour, stopping at different bars and restaurants to enjoy a drink and something to eat, then moving on to the next stop.
Zipline Adventure at Toro Verde, Oracovis, central region
Toro Verde Zip Line boasts one of the longest and fastest in America called the Monster. With spectacular panoramic views, it's the largest adventure park in the Caribbean and Americas. The landscapes will leave you breathless with spectacular views of the mountains of Orocovis.
Thrill seekers, rejoice. Puerto Rico's central region is home to the Toro Verde Adventure Park in Orocovis. The park features eight zip lines, including one of the longest in the world. Fly over green valleys with mountain views super-hero style on the two biggest zip lines, or soar through and play in the treetops on the park's other adventure courses. Tanamá River National Park in Utuado also features an extensive zip line course, as well as cave tubing and rappelling.
Toro Negro State Forest, Oracovis, central region
Take in scenic views along the hiking trails of the Toro Negro Forest. Feel the gentle spray of the three-level Doña Juana Waterfall. Or climb the observation deck of the Mirador Villalba-Orocovis for a panoramic view of the Caribbean Sea, the Atlantic Ocean and all the beauty in between. In Utuado, head to Río Abajo State Forest for hiking, bird watching and cave exploration.
This reserve is one of the 21 public forests that belong to the government of Puerto Rico. Toro Negro is a rainforest that receives about 110 inches of precipitation per year and whose average temperature is around 65 degrees Fahrenheit.
This forest is comprised of 8,000 acres of land and is home to Cerro Punta which, with an elevation of 1,338 meters, is the highest peak on the island.
Toro Negro has nine rivers and two lakes where you can fish, kayak, or boat. You can also walk along its paths, bathe in natural pools, and enjoy its recreational areas that are very popular among those who enjoy camping. Campers will find a site with gazebos, barbecues, bathrooms, and parking.
For camping, you must make a reservation through Amigos del Bosque Toro Negro Inc. by calling 787-349-3375 or 787-612-1598. Available spaces are limited.
Quite possibly the prettiest part of the Ruta Panorámica is the section running from Aibonito to Adjuntas which takes you through Puerto Rico's mountain region and the Toro Negro Forest.
The views from Aibonito to the midway point of this route open up onto sweeping panoramas of valleys; from the vantage point of your high elevation, the houses below look like tiny dots.
Go from Mirador Villalba to the peak of Toro Negro Forest. Then follow the road from Recreativa Doña Juana to Hacienda Buena Vista. You'll then end at the Plaza de las Delicias (Plaza of Delights), Ponce's main square. 
Doña Juana Waterfall, Oracovis, central region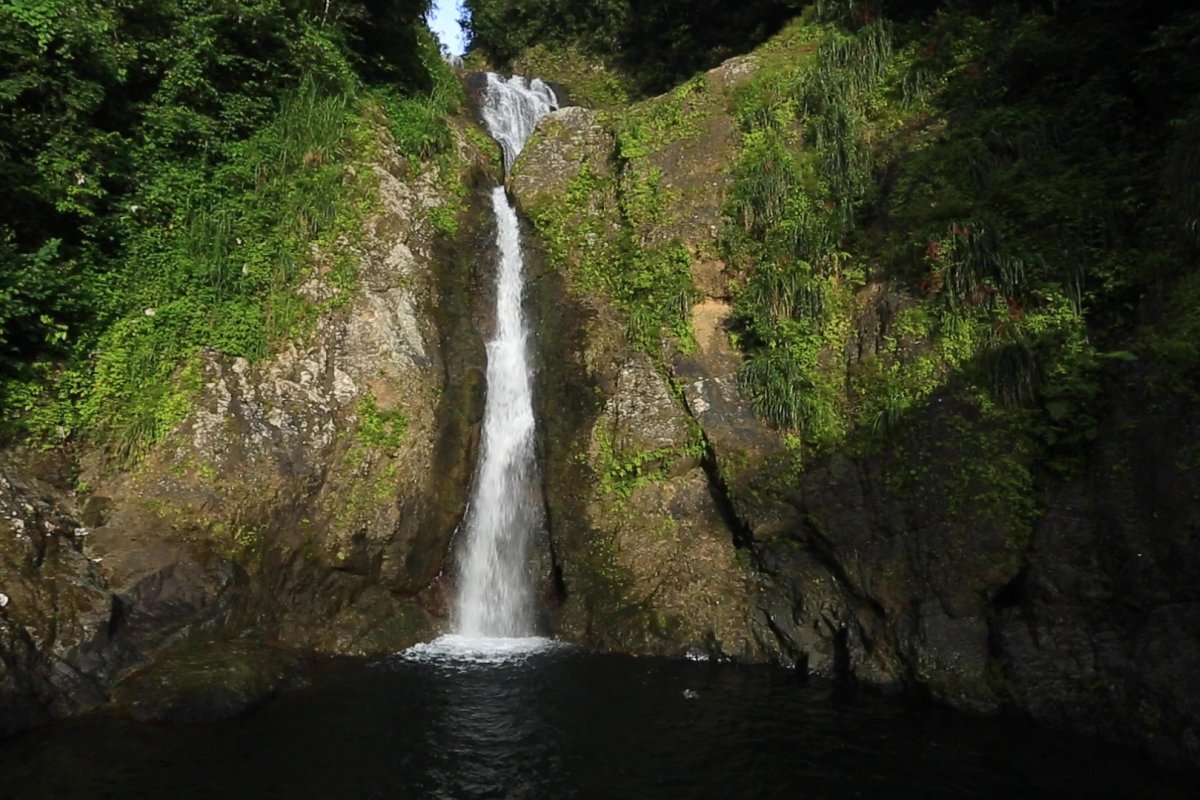 Dona Juana waterfall is accessible from the road and relatively easy to find. It is a good spot to take photos and cool off with a dip in the freshwater pool below. Keep in mind that this is a natural location, not a developed tourist attraction, so there are no bathrooms or changing areas.
Canyoneering, Orocovis, central region
If you are adventurous and in search of more extreme experiences in nature, like rappelling in waterfalls, then you'll love a canyon expedition in Orocovis.
The company Canyoning PR offers guided training and tours for people with different levels of expertise and knowledge.
Please note that canyoning activity involves facing serious heights, strenuous hikes, traversing through slippery and rough terrain, all of which require excellent physical condition and coordination throughout.
Miradero Villalba lookout point, Orocovis, central region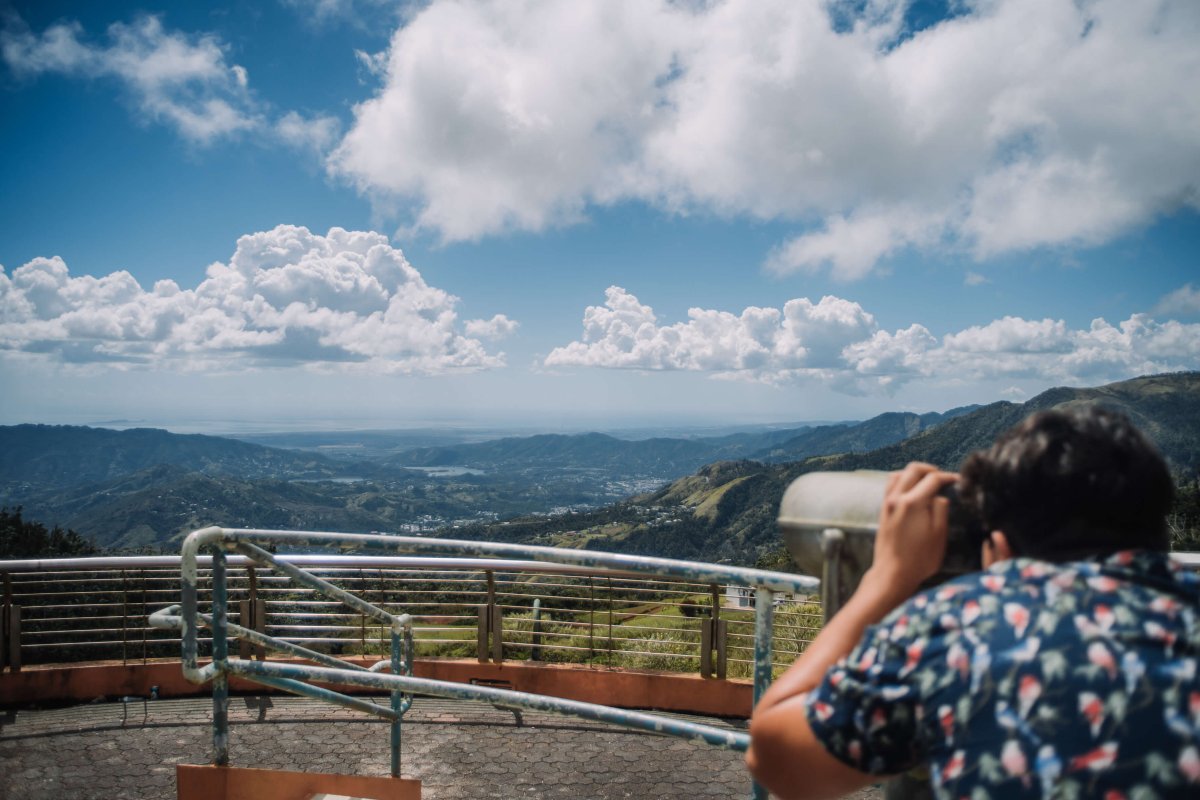 Puerto Rico measures approximately 100 miles by 35 and Miradero Villalba is the precise place you can observe both the north coast and the Atlantic Ocean, and the south coast and the Caribbean Sea.
There are gazebos for picnicking while enjoying the incredible views. It is also a good stop to take a break and before continuing on to your next adventure.
Cañon de Tanamá, Utuado, central region
Deep in the mountainous region of Puerto Rico is the Tanama River of Utuado. Over millions of years, its flowing waters carved a network of caverns, canyons, and tunnels in the limestone cliffs.
A popular activity in this region is Tanamá River cave-tubing tours, which is the perfect mix of deep adventure and leisurely ride, as you float along waterways and through subterranean chambers.
Several ecotourism companies lead caving, cave tubing, rappelling, hiking, and, rock-climbing tours in this area, among them Tanama River Adventures, Cacique Eco Adventures, and Aventuras Tierra Adentro.
All will require participants to be in excellent physical condition, but the level of difficulty and type of activities varies according to the operator and the tour you choose.
Discover Indigenous Culture
Caguana Ceremonial Sites and Museum, Utuado, central region
To understand Puerto Rico today, it's important to understand the island's past. Spend some time at Caguana Indigenous Ceremonial Park in Utuado to see one of the island's most precious Taíno legacies. The Taíno were the original inhabitants of the island, with a history stretching back more than 800 years.
The park features 10 ceremonial plazas, numerous well-preserved petroglyphs, a small museum, a botanical garden, and the ceremonial ball courts dating from Puerto Rico's late prehistoric and early contact era.
The Taino Indians constructed the stone-lined ball courts, called bateyes, between 1200 and 1500 AD, and they used the site throughout the Spanish contact period.
Canon Blanco, Utuado, central region
Canyon Blanco has a mystical feel to it. The river, the large rock cliffs, the majestic mountain in the distance are inspiring. In numerous places along the river there are a number of beautiful pre-Columbian petroglyphs carved into the rocks. Some locals and visitors alike say that this is one of their favorite spots in Puerto Rico. Hike over and through the rock face to a serene pool.
Coffee Tours and Tastings
With a climate that's perfect for bean growing, the central area of the island, around Utuado is the epicenter of Puerto Rico's coffee production. Coffee plantations here are known as "haciendas," and the Hacienda Horizonte is a working coffee plantation in the mountains that also includes guest lodging, as well as tours and tastings.
Hacienda Tres Ángeles, Adjuntas, central region
Experience coffee from harvest to cup in Hacienda Tres Ángeles in Adjuntas. The island's first agro-tourism certified farm has 30-minute tours for $15 per person. Tour the facility on Saturdays with a reservation, taste samples of locally grown coffee, and enjoy mountain views.
Sandra Farms, Adjuntas, central region
In this Adjuntas farm you will not only find a coffee plantation, but you can also appreciate the island's local chocolate production. The farm, named Sandra Farms after one of the owners, immerses its visitors into the history and evolution of sustainable agriculture in Puerto Rico.
Learn all about their environmentally-friendly farming techniques, which result in less water consumption. Every eco-friendly coffee and chocolate lover will be fascinated by their tour and, obviously, their samples.
Hacienda Tres Picachos, Jayuya, central region
The same family has managed this hacienda for over 40 years. Nestled in Jayuya, Hacienda Tres Picachos is an ideal place for a family daytrip. The estate has a traditional Casona, a water mill, a small museum with Taíno artifacts, and a river that crosses the property. There's also a coffee shop and restaurant open on weekends. At Tres Picachos, you'll get the full countryside experience, including animals roaming around the premises.
Hacienda San Pedro, Jayuya, central region
This coffee is one of the island's most popular coffee brands. Sown in the mountains of Jayuya, Hacienda San Pedro's coffee is hand-picked and then dried in antique drums that have been in use for over 100 years. Their beans are slightly sweeter than other coffees.
Tour is $10 per person and takes about 45 minutes which will take you around the facilities and natural areas where coffee is grown and processed. There is a coffee shop and a tiny museum on the grounds.
Museo del Café (Coffee Museum), Lares, central region
The Coffee Museum is located near the town plaza, on the Paseo Aroma de Café, and in addition to being a museum, it is also a coffee bar that serves fresh brews, pastries, and features a shop with coffee-centric products. This charming location belongs to a family that has grown coffee in Puerto Rico for more than 80 years.
Hacienda Lealtad, Lares, central region
Tucked in the mountains of Lares, this is one of the longest-running coffee haciendas in Puerto Rico, dating back to when the Spanish ruled the island.
Cuatro Sombras, Old San Juan, north coast
This class is not available due to Covid-19.
Take a 1-hour coffee tasting class at Cuatro Sombras and learn what it takes to make a good cup of coffee and to taste the subtle differences between the different grades.
Legend has it that the workers of the Hacienda Lealtad estate were part of the group that led the attempted revolution known as el Grito de Lares in 1868. The colonial estate is furnished with authentic furniture pieces from the 19th-century which add to the ambiance.
Hacienda Buena Vista, Ponce, south coast
This location is currently closed due to covid-19 but it's definitely worth a trip with things open up again.
Hacienda Buena Vista is a restored mid 19th- century coffee plantation. The highly informative tour is managed by the conservation nonprofit Para la Naturaleza and Puerto Rico's Conservation Trust.
Hacienda Pomarrosa, Ponce, south coast
A fresh brewed cup of coffee, homemade banana bread, and casual conversation with owner/proprietor Kurt, makes this one of the best coffee tours I've experienced.
Starting with the history of coffee production in Puerto Rico, coupled with an informative walk through the fields filled with coffee plants, banana trees, and other locally grown fruits, the tour continues through the coffee production areas, and ends with another jolt of delicious coffee.
October through December is the best time to visit. Tours are by appointment only and are $20 per person. Two cottages on the property are available for nightly rentals.
Hacienda La Mocha, Ponce, south coast
Between the southern region and the central mountain range lies a modern coffee hacienda where you can actually stay the night. This sustainable coffee farm is also a butterfly and bird sanctuary where you can go on bird watching tours and also has a restaurant where you can savor a farm-to-table experience. Tours are $15 per person.
Hacienda Muñoz, San Lorenzo, east central region
One of the island's newest coffee haciendas is in San Lorenzo, just 30 minutes from San Juan. Hacienda Muñoz offers a nice escape from the metropolitan area without venturing deep into the mountains of Puerto Rico.
Their walking tour includes a history lesson, while you enjoy the views of their small coffee plantation, and a snack overlooking the neat rows of coffee plants. Animals such as peacocks, turkeys, chickens, and even a donkey roam freely through the property.
A slide presentation about harvesting, grading, roasting, and packaging starts the class. A discussion then ensues about the past and present of coffee production. The best part? Coffee cupping. A process of tasting coffee to quantify the aroma and flavors of the coffee. Learn the qualities of a good cup of coffee by sipping and slurp to identify a good cup of coffee.
Cafe Gran Batey, Utuado, central region
At Cafe Gran Bate the tour starts at the plantation, where you'll learn about the different types of coffee beans and how they are harvested and sorted for processing.
The tour includes a visit to the processing plant where you'll get to see all the stages of production from drying and sorting to storage and roasting. Stop at the laboratory for a tasting before finishing off your day at the bistro, where you can enjoy a traditional Puerto Rican lunch or dinner. Tours are 1 1/2 hours.
Things to do on the South Coast
Bosque Seco de Guánica, south coast
Guanica Dry Forest is one of the most extensive tropical dry forests in the world. This arid land is home to hundreds of species of plants and animals and is a popular stop for birdwatching enthusiasts. There are also numerous trails with varying degrees of difficulty, so no matter how much exertion your group wants, there's probably a good match for them here.
One of the most popular trails (also one of the longest, at six miles) is the Fuerte de Caprón, which leads to the remains of a historic fort overlooking the coast. The Cueva Trail leads to the coast and a series of natural caves. There's also the Ballena Trail, which reaches Ballena Bay and nearby Tamarindo beach, which is a great spot for a swim.
Sunflower Farm, Guanica, south coast
The sunflower blooming season is September through November. Check The Finca el Girasol Facebook page for opening days and times.
Ponce, south coast
Known as the "Pearl of the South," the Ciudad Señorial of Ponce is distinguished by its historical and cultural attractions. The distinct architecture that surrounds the town square or the Plaza Las Delicias is known as Ponce Creole.
It is the second-largest city on the island (after San Juan) and it's also known as the "Museum City" due to its abundance of museums.
The Plaza Las Delicias is home to the iconic fire station Parque de Bombas (pictured above) and the iconic Cathedral of Our Lady of Guadalupe (pictured below).
A variety of restaurants, coffee shops, and the famous Kings Ice Cream can be found in the plaza.
The Museum of Art, Ponce, south coast
This stunning Museum of Art showcases its extraordinary collection of European and Puerto Rican art.
Serrallés Castle, Ponce, south coast
A grand mansion overlooking the downtown once belonged to the owners of the Don Q Rum Distillery. It now houses a museum about the sugar cane and rum industries in Puerto Rico.
La Guancha Malecon, Ponce, south coast
This picturesque, seaside boardwalk (malecon) is lined with restaurants and kiosks selling food, beer, cocktails, and soft drinks. La Guancha is a popular entertainment destination for locals and an ideal place to kick back after a day of strolling around the city.
Cerro de Punta, Ponce, south coast
The highest peak in Puerto Rico, Cerro de Punta rises 4,390 feet above sea level. The mountain is part of the Cordillera Central. It offers spectacular vistas of the entire island and the Caribbean Sea.
To get there take PR-143, which is a winding two-lane mountain road that must be traveled very slowly as it is not possible to see traffic coming from the opposite direction for any significant length. Off Route 143 is the road that actually leads to the mountain's top. Route 143 can be accessed via the better-traveled Route 10. Route 143 is part of the Ruta Panorámica.
Coamo, southern region
Coamo Thermal Springs, Coamo, southern region
Thermal springs, heated from a dormant volcano freshwater fill two pools. The water is clean and at a constant temperature. Visitors at the Coamo Thermal Springs have access to restrooms, outdoor showers, changing rooms, and cool drinks. These pools might be the pinnacle of relaxation and are believed to be the Fountain of Youth for some.
Things to do on the East Coast
Charco Frío – Rio Tinajas, Ceiba, east coast
Las Tinajas' deep pool of clear water (at least 10 feet in sections), has a rope swing. There is also a pretty waterfall nearby.
Cayo Santiago (Monkey Island) Naguabo, east coast
A cay located roughly half a mile offshore from Punta Santiago is part of the municipality of Humacao. While the small island is uninhabited by humans, it is home to more than 1,000 free-roaming Rhesus monkeys.
The animals were first brought to the island from India in 1938 for scientific research purposes. They have since lived here for generations and are still studied today. While the island is off-limits to visitors, visitors can schedule a guided excursion with La Padeodora to view the primates frolicking, fighting, and playing from the water.
Captain Paco plays a conch shell and provides traditional Puerto Rican instruments for his passengers during the short ride to the island.
Bring your own drinks, but ham and cheese sandwiches on sweet local bread are served on the boat.
Malecon, Naguabo, east coast
El Malecón de Naguabo is one of the island's most visited waterfront promenades, and it's widely recognized for having over 30 restaurants and kiosks that visitors can choose from.
During the weekends, local families flock to the "malecón" in search of the "catch of the day." A can't miss the specialty of Naguabo is their famous "pastelillos de chapín," which are delicious Puerto Rican fritters filled with coffer fish.
Finca de Rustica -Sunflower Farm, Naguabo, east coast
Visit the bright and cheery sunflower farm, Finca de Rustica, in Naguabo. Check their website for hours and blooming season.
University of Puerto Rico's Astronomical Observatory, Humacao, east coast
The research facility opens its doors to the public during lunar eclipses and other notable night-sky events.
Humacao Nature Reserve, Humacao, east coast
This 3,000-acre protected Humacao Nature Reserve's a haven for a variety of birds, fish, and wildlife. A network of swamps, bogs, lagoons, and beaches crisscrosses the reserve, and hiking and cycling trails make it easy to explore.
You can rent bikes by the hour from Morillo Cycle, or if you're in the mood for an aquatic adventure, stop by Water Sports and Eco-Tours to rent kayaks, paddleboards, and paddleboats.
Pterocarpus Forest, Humacao, east coast
The Pterocarpus Forest nature preserve at Palmas is a unique 51-acre swamp forest. This is one of the largest remaining swamp forests in Puerto Rico and serves as habitat to 44 species of flora and 52 species of fauna, of which 13 are considered endemic.
This Forest grows in an area permanently flooded by fresh water and the predominant species in this type of wetland is the Pterocarpus Officinalis tree ("Dragonsblood Tree"), commonly known in Spanish as palo de pollo because of the shape of its aerial roots. The tree may grow more than 65 feet tall, with large aerial roots that allow it to grow in flooded soil.
Once common in Puerto Rico's coastal wetlands, the remaining Pterocarpus forests are few, widely inaccessible, fragmented and in danger of disappearing altogether.
The 3/4-mile, elevated Boardwalk and observation tower solidifies the establishment of permanent conservation, education, and research programs in the area.
Guayamas Dry Forest, Yabucoa, east coast
The Guayamas Dry Forest is located in Yabucoa, which is on the east coast of Puerto Rico. The only way to get there is by going through the Palmas eel Mar resort in Humacao. There is even an observation tower at the top for the hardy hikers and bikers.
Things to Do in the West Coast
Beaches, west coast
Crash Boat Beach, Domes, Sandy Tres Palmas are all popular beaches on the west coast.
Cabo Rojo National Wildlife Refuge, west coast
Cabo Rojo, a municipality is located in the extreme southwest of Puerto Rico, where charms include towering limestone cliffs, stunning beaches, idyllic nature reserves for birdwatchers, and creative restaurants.
The Cabo Rojo National Wildlife Refuge is a subtropical dry forest in the coastal region covering 1,836 acres of land is a paradise for people who enjoy hiking and birdwatching.
The Cabo Rojo Salt Flats or Salinas de Cabo Rojo is where beautiful pink and red tones contrast with the turquoise color of the beach. They're part of the refuge and have been recognized as an important wildlife habitat.
The name of this coastal town refers to the reddish color of the water in the area where the Salt Flats are located, precisely because of the high concentration of the mineral. It's about a two-hour drive, from San Juan depending on traffic.
The famous salt flats are an interesting stop for visitors. Start at the informative visitor's center, which has a viewing deck, and hiking trails. There are also guided tours available with advance reservations. The visitor's center operates from Thursday to Sunday from 8:30 a.m. to 4:30 p.m.
Los Morrillos Lighthouse, Cabo Rojo, west coast
Los Morrillos Lighthouse, the natural stone bridge on one of the best beaches in Puerto Rico, Start the day at Los Morrillos Lighthouse, a picturesque, cliff-side structure completed in 1877. Enjoy panoramic views from the observation deck and spend some time exploring the rocky cliffs and the popular Puente de Piedra (a photogenic natural stone arch nearby).
This historic and picturesque lighthouse helps ships navigate safely through the Mona Passage from the Caribbean Sea to the Atlantic Ocean. Completed in 1877, this lighthouse was the second one built under Spanish rule on the island. The structure is part of a maritime lighting system that in 1981 was included in the National Register of Historic Places of the United States Department of the Interior.
To get to the lighthouse, after driving over unpaved road, you will have to park and walk up a hill (it's not very steep). Visitors can access the lighthouse's observation deck to enjoy incredible panoramic views of the surrounding area and the
La Playuela Beach (known by locals as Playa Sucia), Cabo Rojo, west coast
This is one of Puerto Rico's most beautiful and remote beaches, recognized among the best of the Caribbean. It is located very close toLos Morrillos Lighthouse, so you can plan a visit to both attractions on the same day.
La Playuela is a crescent-shaped beach, with soft white sand and blue turquoise water. Generally, the waves are gentle, but please be careful if you move to a deeper area given there are no lifeguards or facilities on site.
La Parguera Cayes, Lajas, west coast
In southwestern Puerto Rico, near Lajas, is the quaint little village of La Parguera. On a waterfront boardwalk, (malecon), you can sip mojitos, munch on a pincho, and shop for colorful souvenirs.
The waters are beautiful, but it is not blessed with the pristine beaches found in other parts of Puerto Rico. So the municipality built a deck around an area of water, added netting that goes to the seafloor so nothing big can get in, and created an ocean pool.
La Parguera has ample opportunities for snorkeling, diving, hiking, and deep-sea fishing. From mangrove reserves to sea turtles, to a bioluminescent bay there's much to explore.
Outlying Islands
Culebra, east coast
At this time Vieques is closed to non-residents, but Culebra an outlying island off of the mainland of Puerto Rico is open. To get there you have to get the ferry or a small plane from Ceiba on the northeast coast of the island.
It is also possible to reserve a snorkeling day trip to either of these islands from tour operators out of Fajardo on the east coast.
Both Vieques and Culebra have an assortment of restaurants, tour operators, and small inns for travelers who wish to stay several days or a week or more. I don't recommend going for a day because there is so much to see and do.
Culebra's most famous beach, Flamenco, a 1 ½ mile-long crescent of gorgeous powdery soft, white sand. Clear, calm turquoise waters. Billowing palm trees bordering the Culebra National Wildlife Refuge, one of the oldest in the United States.
Off the coast of Flamenco Beach is a reef filled with colorful aquatic life. Culebra's white-sand beaches, snorkeling, scuba diving, and swimming with turtles can't be beaten, not to mention its great fun driving around the island on a golf cart.
Vieques, east coast
Vieques is an island off Puerto Rico's eastern coast. It's where horses roam freely admit the countryside. The island is known for boat tours of the Bioluminescent Bay (or Mosquito Bay), where microorganisms give the water a blue-green glow. It also offers over 40 beaches, many secluded and preserved in the Vieques National Wildlife Refuge. The Fuerte de Vieques, a mid-19th-century Spanish fort and museum, is a gem.
Gilligans Island, Guanica, south coast
You can reach Gilligan's Island by taking a boat from Guánica's coast, or you can also rent a kayak and paddle your way over. Once at the cay, you'll find shallow crystal water that's ideal for snorkeling. The facilities at the cay are limited to only picnic tables and restrooms, so keep this in mind when packing for your day.
Coffin Island, Ponce, south coast
Better known as Caja de Muertos, there are boat excursions that will make the 8-mile trip from Ponce. The island is home to a protected sea turtle population and there's a sign guided snorkeling tour.
Mona Island, west coast
At this time, there are no tours.
Known as the Galapagos of the Caribbean, Mona Island is remote. There are no hotels or infrastructure, nor are there any human inhabitants.
The only way to access the island is by boat and you need permission. The boat ride lasts from three to four hours and it's a 45-mile voyage across the infamous Mona Passage, much of it can be on rough seas.
Being far away from the mainland, Mona is rich with endemic flora and fauna, making it a Caribbean jewel of biodiversity. There are hiking trails and two designated camping areas where you can set up a tent and enjoy the mesmerizing sounds of unspoiled nature.
50 miles off the coast – this 7 miles long and 4 miles wide island has 200-foot cliffs riddled with caves. The island is home to the Mona Iguana, the Geco Oriundo and the Hawksbill and the Leatherback sea turtle. Camping is allowed at Sardinera Beach No more than 100 visitors are allowed on the island at any one time.
787 722-1726.
Isla de Ratones, Cabo Rojo, west coast
Isla de Ratones is also known as Cayo Ratones or Isla Ratones is a small island located near the Joyuda Lagoon in Cabo Rojo, Puerto Rico. The island is a popular spot for snorkeling.
Puerto Rican cuisine
The Taino, Arawak, Spanish, and African cultures influenced Puerto Rican cuisine. I believe that to truly experience the Puerto Rican culture, one must taste the local food.
La Ruta del Lechon, Guavate
Whole roasted pig or lechon is a traditional holiday food in Puerto Rico, but it doesn't have to be a holiday for you to try it.
Read about an entire town, Guavate, dedicated to cooking and serving this juicy and succulent meat all year-round. Take a ride along "pork highway" (La Ruta del Lechón), where you'll find several restaurants (lechoneras) specializing in pork. Crispy, juicy, and succulent, lechon must be tried to be appreciated.
Arepas
Baked, fried, or steamed, they're often served as a side with pork, beef, or fish. Arepas are a favorite of mine!
Tostones
Tostones are fried green plantains and are wildly popular in both restaurants as a side dish and as street food.
Pinchos
Spanish for spikes, these grilled shish-kebobs made with pork, chicken, or shrimp.
Mofongo
Because mofongo is Puerto Rico's signature dish, if you eat only one local food, this is the one to try. Mashed fried green plantains are oftentimes formed into a cup and filled with pork, steak, chicken, or seafood. Then they're covered in garlic and olive oil, or a criollo (red) sauce. Yum, so delicious!
How far away is Puerto Rico?
Easy to get to, there are direct flights from cities all along the east coast of the U.S. You can get to San Juan is just a little over 2 hours from Miami and less than 3.5 hours from New York.
Do I need a passport to go to Puerto Rico?
No passport? No problem. You only need a valid government-issued ID to travel to Puerto Rico from the U.S.
What is the weather like in Puerto Rico?
Monthly temperatures average between 75 and 85 degrees, so there's never a bad time to visit.
This comprehensive travel guide to Puerto Rico, created to help visitors navigate the current COVID rules and restrictions provides important travel tips, and highlights some of the best places to visit while social distancing. Be sure to always check if places are open before you go.
Whether you're a beach bum or a hiker, a history buff or a foodie, or someone who enjoys water sports or exploring caves, Puerto Rico welcomes you. Be sure to always social distance and wear your mask.